ATTENTION: This is continuation of this article. So you're advised to read it first.
The best way to Brand YOU and become the Leader in your industry is to consistently create VALUABLE content for your audience…
So what the heck does that actually mean to you and your business in practical terms?
VALUABLE CONTENT: 
Any piece of content that addresses YOUR target audience's top challenges, problems, and pains… content that provides solutions and answers that your audience would see VALUE in.
If you are going to succeed online, you are going to have to create a steady flow of valuable content for your target market…
Let me repeat this: Your job is to create consistent daily content for your audience that address their top challenges, problems, pains, dreams, desires, and questions…
This content can be in the form of videos, facebook posts, blog posts, instagram pics & stories… this content can be FREE PDF downloads, how-to infographics, cheat-sheets, audios, interviews… ANYTHING.
This content ideally EDUCATES and ENTERTAINS your audience simultaneously, and provides them solutions to problems they have. It identifies an 'itch' your audience has, and then it 'scratches' that itch!
ENTREPRENEURS ARE A PROFESSIONAL PROBLEM SOLVERS… YOU are a Professional Problem Solver.
To Get Rich as an Entrepreneur, You Must Get Good at Solving Your Audience's Biggest Problems.
Bottom line: your content must give your audience what THEY want.
99% of marketers just spam their links everywhere, provide no value to their prospect, and then wonder why nobody is buying.
For example, our #1 target audience is 'home business owners'…
And we know from decades of experience that their top 2 biggest challenges are leads and money…
So what do we do? SIMPLE! We follow this exact 7-Step Attraction Marketing Method and crank out content like a machine every single day that educates, teaches, and trains our audience on how to get more leads and make more money in their businesses…
And yes, we have a paid product & solution so when our audience wants to master the area of lead generation and monetization for their business, WE GET PAID…
And YES, YOU need to work with the end in mind and have an offer congruent with your content that you can sell to your audience when they are ready to master your particular subject… Your content should pre-sell your audience on the benefits of what you have to offer without having to do any 'selling,' yet… (more on that in Step 6 below)…
The bottom line is this:
People will want to buy from you when you follow this 7 Step Attraction Marketing Method.
These are some examples of free lead magnets, free giveaways, free downloads, value and content we've created for our target audience that solves THEIR biggest challenges (leads & money)…
As you can see, questions are VITALLY important: Who do you serve? Who do you want to be, and for what target audience?
Do you want to impact and serve people who are interested in health and wellness? Or people who are interested in personal growth? Maybe people who are interested in traveling the world? Or maybe people who are interested in learning how to build a successful online business?
You must decide who your audience is ASAP because if you don't know who you're speaking to… it's going to be next to impossible to grow a profitable business!
It's also time to decide what platform(s) you want to build your audience on… Facebook, Instagram, YouTube, Twitter, LinkedIn, Pinterest, Blogging & WordPress, your e-mail list, etc.
We recommend focusing on maximum 2 at first, and we recommend you building your e-mail subscriber audience (sometimes called your e-mail list), and your Facebook audience if you are just getting started.
Depending on the platform you choose, the content you create to build & engage your audience could be Facebook profile & fan page updates, Facebook LIVES, manychat and Facebook messenger… if you go with Twitter, you would build & engage your audience with Tweets… if you choose Instagram, you would build & engage your audience with pictures, images and Instagram stories, etc. etc.
After creating thousands of success stories and profitable students, we've come up with a very simple formula to help you create laser focus in your business on a daily basis to all but guarantee results…
B-E-S
'Build your audience – Engage your audience – Sell to your audience'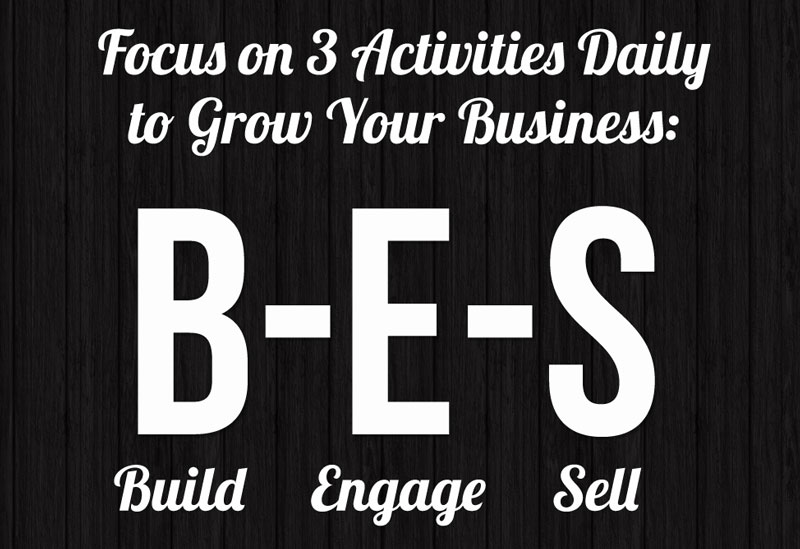 If you focus on these 3 activities every single day to BUILD your audience on Facebook for example…
And you spend some time each day to ENGAGE with that audience, and create valuable content that speaks to their biggest challenges…
You will see that the SELLING part of the equation becomes almost effortless…
And BINGO! You are now reaping the benefits of Attraction Marketing!
If you ever feel lost in your business, simply come back to our 'B-E-S' foundation… this quite possibly could be the most valuable acronym ever created for home business owners.
If you focus your attention on and execute these 3 activities every single day (B-E-S), you will succeed just like thousands of our members who have come before you!
---
---
---